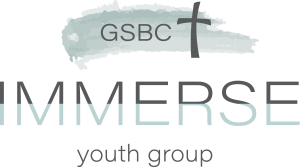 Immerse includes 6th-12th grade students and is led by Pastor Chad in a fun and relaxed environment. We would love to see you there!
Worship Service
Following Sunday School on Sunday morning, the students attend the church service with their families at 10:45 a.m.
Sunday night
A Sunday night meeting consists of games, student-led worship, friendship building, and a time of Bible studying and prayer lead by Pastor Chad. 
Immerse Bible Study
Every Wednesday evening from 6:00-8:00 p.m., the teens gather at the church for a Bible study. Afterward, the Immerse worship team takes some time to practice. We are happy to have additional musicians or vocalists join the team.
First Friday
First Friday is a fun-filled monthly event, often including activities such as Nerf Wars, game nights, and scavenger hunts. It usually runs from 6:15-9:45 p.m., but be sure to check the bulletin or online announcements for up-to-date information.
Events
Immerse regularly has events such as girls' night, guys' night, paintball, bonfires, etc. in addition to First Friday. The schedule is everchanging, so please contact Pastor Chad or the church office to find out what events are coming up.